Summary: 15th November 2019
PMI data aside, we are still waiting for new insightful information on economic conditions for the fourth quarter. That said, preliminary third quarter GDP estimates provide our dynamic factor model with key information to ascertain the likely trajectory of each country into year-end.
Starting with the eurozone, our nowcast here has been revised into growth territory, with an expansion of +0.08% forecast for the fourth quarter. A primary factor underpinning our +0.1 percentage point revision was industrial production data. Growth in September nudged up the outlook for the three months to December, although we note that manufacturing still looks set to negatively contribute to fourth quarter GDP based on current data and our models own forecasts.
Elsewhere, there is little material change to Germany, where, despite the surprising growth seen in the third quarter, our model is projecting a contraction in Q4 (-0.14%). The downward revision to second quarter GDP implies the economy here is in stagnation, (and a factor why the upside surprise in Q3 has had no material impact on the fourth quarter nowcast). We reiterate the signal from the October PMI surveys which showed manufacturing weakness remains prevalent and more tentative signs that spillover into the service sector have appeared.
Meanwhile, France's (relatively) impressive growth story so far this year looks set to continue in the fourth quarter (+0.36%q/q). Shelter from the external headwinds which have hit the likes of Germany has enabled a sustained upturn of the domestic economy. In Italy's case, our model implies that the country has clawed itself out from near-recession territory earlier in the year. Nevertheless, the growth potential here remains marginal at best (+0.11%q/q), with the economy particularly exposed to the performance of its German peer.
Across the channel, we have forecast stagnation for the UK economy in the fourth quarter (+0.02%q/q). Strong July data was a key factor behind the UK's third quarter expansion, but August and September data were disappointing and broadly flat. We anticipate this trend to persist over the final months of 2019.
Next Nowcast Update: November 22nd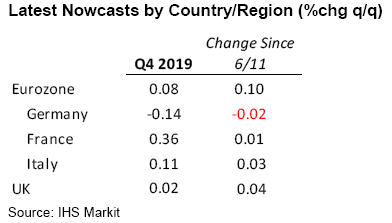 Joe Hayes, Economist, IHS Markit
Tel: +44 1491 461006
This email address is being protected from spambots. You need JavaScript enabled to view it.
Paul Smith, Director, IHS Markit
Tel: +44 1491 461038
This email address is being protected from spambots. You need JavaScript enabled to view it.

© 2019, IHS Markit Inc. All rights reserved. Reproduction in whole or in part without permission is prohibited.