Export Climate Index points to weak global demand
Official data indicate that 79% of manufacturing exports go to US
This note provides the first look into the IHS Markit PMI™ Canada Export Climate Index, which tracks the international demand environment facing Canadian manufacturers. The outsized influence of the health of the US economy on Canadian manufacturing exports cannot be understated, meaning US demand plays a major role in driving export sales. The current subdued growth seen in the US accounts for much of the near-decade lows seen in Canada's export climate and Canada's weak headline PMI numbers.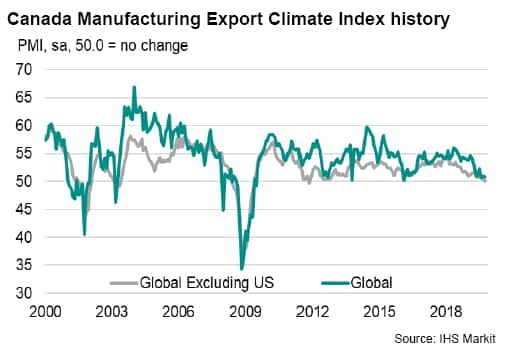 Export conditions since 2000
Canadian manufacturers are battling against one of the toughest export environments seen since the global financial crisis, as shown by the Canada PMI Export Climate Index. Posting 50.8 in October, the index showed only a marginal improvement in foreign demand conditions. Furthermore, demand conditions have been on a downward path since early this year, with recent readings being among the weakest since 2009.
When looking at data from 2011 onwards, we can see the marked impact of the US market for the Canadian manufacturing sector. The US market has long been an uplifting influence on export prospects for Canadian manufacturing firms. However, the recent slowdown in growth of the US economy, as signalled by both the IHS Markit PMI surveys and official data, means that export prospects to Canada's largest external market are now some of the gloomiest over the past three years, and almost no better than to the rest of the world.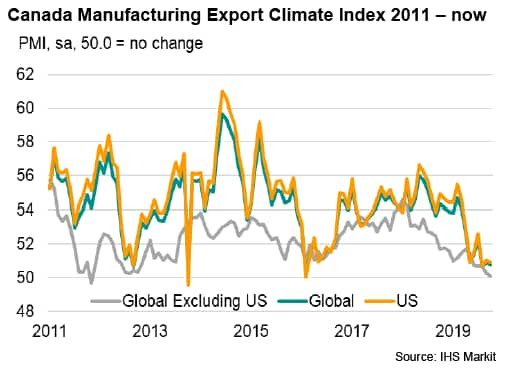 Export destinations
When looking at the Statistics Canada manufacturing exports data, the dominating influence of the US is clear, with around 79% of all Canadian exports heading directly south of the border. The second-largest trade partner of Canada, China, pales in comparison with just 4% of total Canadian goods exports, as does the third placed Mexico with its market share of 2%.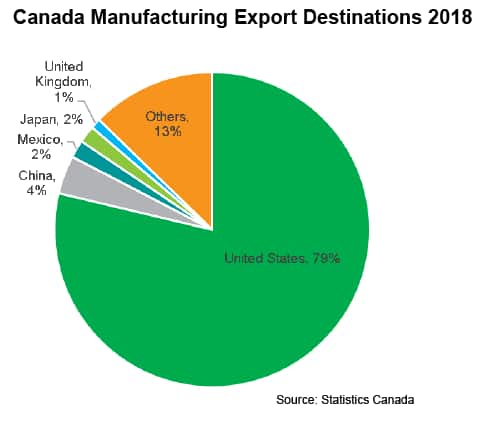 Appendix - Methodology Information
The Export Climate PMI indices are calculated by weighting together national PMI survey data on output trends (manufacturing and services where available). Weights are derived from official statistics relating to the relative importance of individual trading partners' contributions to the external trade of a specific country. By weighting together the output trends from national PMI surveys according to their importance to the external trade of Canadian manufacturers, an advance indicator for the economic health of their export markets is obtained. All data are seasonally adjusted.
Any reading above the 50.0 no-change mark indicates an improvement in the health of the export climate, with any reading below 50.0 signalling a deterioration. The further away from 50.0 the index reading is, the greater the change in the export climate.
Amritpal Virdee, Economist, IHS Markit
Tel: +44 207 064 6460
This email address is being protected from spambots. You need JavaScript enabled to view it.

© 2019, IHS Markit Inc. All rights reserved. Reproduction in whole or in part without permission is prohibited.