Summary: 22nd November 2019
Today sees a fresh set of flash PMI figures released for Europe, including our new flash series for the UK.
As we enter the final stretch of 2019, the picture in the eurozone remains familiar: decent expansion in France is being offset to an extent by ongoing weakness in Germany, the net result being another meagre growth estimation for the euro area in the fourth quarter (+0.07% q/q).
That said, there is some optimism in the latest survey results that the manufacturing led drag on continental European growth is easing.
Whilst remaining in negative territory, the respective Eurozone manufacturing PMI improved for a second successive month in November (to 46.6, from 45.9), with French manufacturers enjoying their best growth since mid-year and German goods producers registering the slowest rate of contraction since June. Moreover, private sector optimism about the future struck a four-month high.
However, the scale and length of the present downturn in industry continues to have negative spillover impacts on wider macroeconomic activities.
Eurozone service sector activity growth disappointed in November, with the respective PMI falling to a 10-month low of 51.5 (Oct: 52.2). Of note, employment gains are running at their slowest in around five years, raising concerns that the labour market - which has been the catalyst of growth in the region this year thanks to higher wages and the positive impact on consumption - continues to cool.
Of course, these impacts are playing out in different ways across the region. France - which seems to have avoided the worst of the manufacturing downturn - continues to enjoy robust growth, with our nowcaster currently predicting a quarterly expansion of +0.37% for the fourth quarter.
In stark contrast, Germany's industrial downturn remains severe, despite the drag on overall output easing back in November. Our model subsequently maintains a call for a quarterly drop in GDP of around -0.1% q/q in the final three months of the year.
Economic activity in the UK, meanwhile, continues to be buffeted by political uncertainties resulting in the ongoing broad stagnation of the country at the back end of the year.
In fact, according to the flash November PMI data, economic output in the UK declined in November for the second time in the past three months, led by surprise contractions in both manufacturing and service sectors.
These developments have subsequently led to a noticeable downgrade in our UK nowcast to -0.03% q/q (from +0.02%) and raising the risk of an outright GDP contraction over the final quarter of 2019.
Next Nowcast Update: December 4th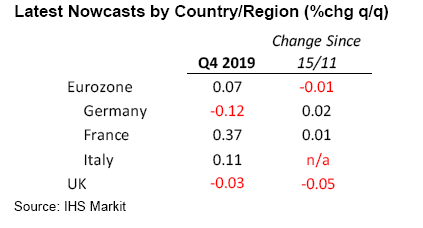 Joe Hayes, Economist, IHS Markit
Tel: +44 1491 461006
This email address is being protected from spambots. You need JavaScript enabled to view it.
Paul Smith, Economics Director, IHS Markit
Tel: +44 1491 461038
This email address is being protected from spambots. You need JavaScript enabled to view it.

© 2019, IHS Markit Inc. All rights reserved. Reproduction in whole or in part without permission is prohibited.