Trade downturn keeps global growth close to two-year low
The following is an extract from IHS Markit's monthly PMI overview presentation. For the full report please click on the link at the bottom of the article.
Global PMI stuck close to two-year low in October
Global business activity grew at a marginally improved rate in October, suggesting the pace of economic growth accelerated for the first time in four months. The JPMorgan Global PMI, compiled by IHS Markit, edged up from 52.8 in September to 53.0, indicative of annual global GDP growth of just below 2.5% (at market exchange rates. However, the improvement in part reflected weather-related rebounds in the US and Japan. Even with these rebounds, the increase was the second-weakest seen for two years.
Manufacturing output increased at the slowest pace since June 2016 but services activity growth picked up from September's two-year low, albeit remaining below the highs seen earlier in the year. The manufacturing slowdown could be largely attributed to a second successive month of marginal declines in worldwide export orders. The improved service sector performance in October was predominantly driven by faster growth in the US and Japan, which had both seen adverse weather subdue business in September.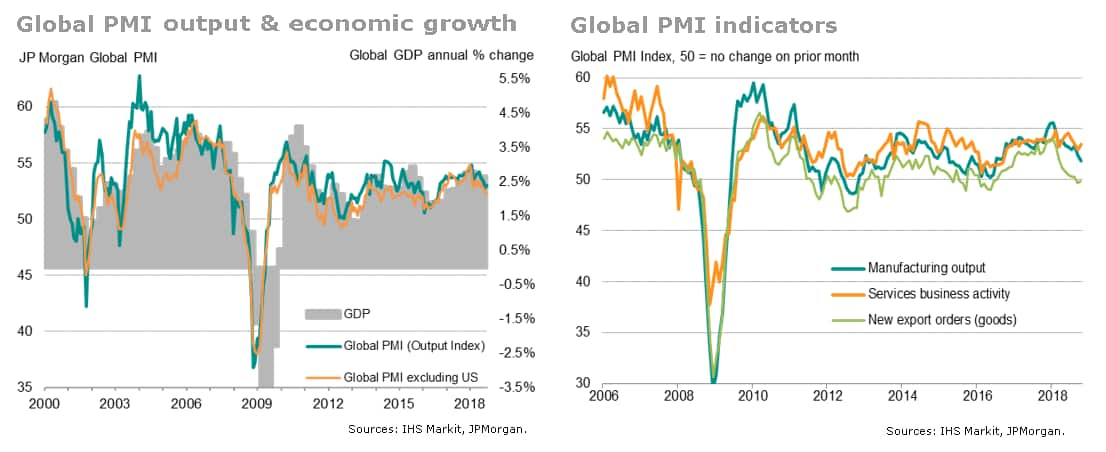 © 2018, IHS Markit Inc. All rights reserved. Reproduction in whole or in part without permission is prohibited.